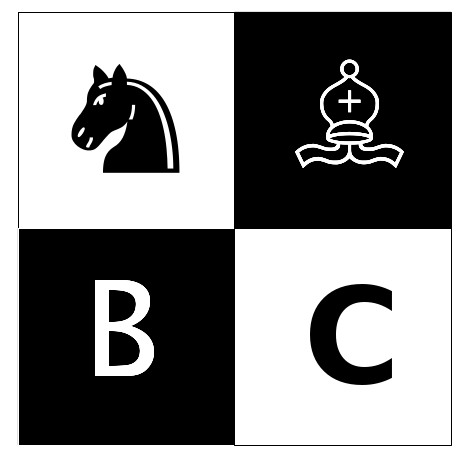 2nd Bude Open Swiss Online Tournament*

Onlyb 6 entries so it will be an APA
Thursdays starting 29/04/21
Open to all players in Cornwall.

The competition is open to chess players from Cornwall, either living here, playing for a Cornwall club, or working in Cornwall.

Play will take place on the Lichess platform with rated games (details of how to do this are given here)

Any violation of the Lichess terms of service will result in removal from the tournament and games played made void unless the account violation is removed by Lichess on appeal.

Rate of play will be 45 minutes plus 15 seconds a move

This competition will be a five round swiss tournament:

Round 1: 29/04/21 Round 2: 06/05/21 Round 3: 13/05/21 Round 4: 20/05/21 Round 5: 27/05/21

Pairings will be by Swiss Manager and results shown on chess-results.com

Players should give an email address to the organiser that they are happy for all the players in the tournament to have in order to facilitate any re-arrangement of matches. Please also include your Lichess user name.

Games will be submitted to the ECF for grading – this will be their online grading, not 'over the board' grading. This means that all players will need to be members of the ECF, full details are given here)

Scheduled games will take place on Thursdays at 19:30 beginning with 29th April 2021.

If you are unavailable any one week you may claim a ½ point bye (Rounds 1-5) up to 13:00 on the Wednesday before the round is played. If unavailable for a second week you may claim a 0 point bye by the same time. Any further unavailability and you will be withdrawn from the tournament.

Please inform the organisers if you wish to withdraw from the tournament.

Pairings for the 1st round will be published Wednesday evening 28th April 2021.

The pairings will be published on the Wednesday evening before each round along with a list of all relevant Lichess user names and emails.

Games will be played on the date given at 7.30pm to give us a 'club night' feel where we can watch other games still in progress or chat to other players once our games have finished.

Default time is 7.45pm on the night given for the game to take place.

Please send the result of you match to chess@budechess.co.uk

The first named person for each match will play white and should issue the challenge to their opponent, however either player can issue the challenge.

One point will be awarded for a win, half for a draw and none for a loss.

Please enter by email to chess@budechess.co.uk by 18:00 on Wednesday 28th April 2021
11/03/20 From Cornwall County Chess Association: "Over the weekend the committee have held a "meeting" by email and agreed that in the current circumstances the most responsible course of action is to suspend chess activity in Cornwall for the time being with immediate effect."
17/03/2020 In light of the current advice from the Government Bude Chess regret that we will be suspending all meetings with immediate effect. We will keep you informed on here and on our Facebook page of any developments.