1st Bude Rapidplay - Cornwall Players in bold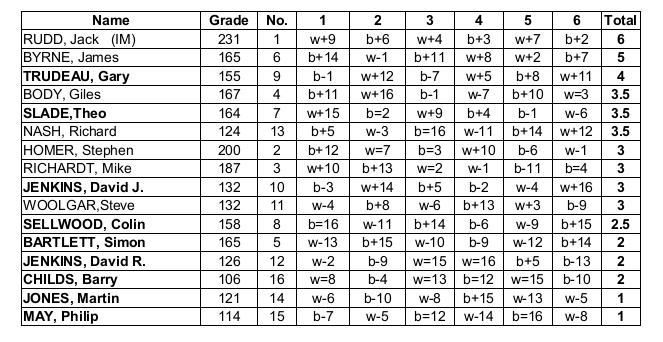 The 1st Bude Rapidplay Congress took place on Saturday 27th September 2014 at the Bude New Life Centre in the Strand. Being a new tournament we did not know what to expect in terms of entries especially with Budes poor public transport links. In the end 16 players took part in one section from as far away as Bristol and Helston.It was a strong tournament with an average grade of 153, including International Master Jack Rudd from Bideford who won with 6/6 with his own unique method of play. Second place went to James Byrne of Taunton whose only loss was to Jack. The grading prize went to the top Cornish player of the day, Gary Trudeau from Liskeard. Local teenager Theo Slade started well but then came up against Rudd and Byrne in the last 2 rounds and finished on 3.5/6. The top under 140 performance of the day came from Richard Nash of Barnstaple with 3.5/6 with 2nd place shared between David J.Jenkins of Camborne and Steve Woolgar of Bristol, both with 3/6.The U125 grading prize was shared between David R.Jenkins of Liskeard, and Barry Childs of Lerryn who put in a solid performance as the lowest graded player in the tournament. Two book prizes were awarded, one to Philip May for being the first person to enter the 1st Bude Rapidplay and the second one to Steve Woolgar for travelling the furthest to get here.Comments from the players were very favourable and they seemed to like the venue, organisation and refreshments. A couple of players suggested having another one in about 6 months time rather than having to wait a whole year! Watch this space.......
So a big thank you to everyone who turned up and made the day a success, it was a pleasure to control you.
"Hi John and Chris, Thank you for a great day out, and really enjoyed the chess. Looking forward to the next one. Regards Barry" (Childs)
"Dear John and Christine,
Thanks for a lovely day out at the first Bude Rapidplay tournament. Lovely venue and the friendliest atmosphere I've ever encountered at a tournament. Colin commented on the way home that the smaller entry made it a much more intimate event than larger events. I was really impressed by the stronger players giving up time to help and encourage the rest of us. In summary, a very enjoyable event. I will definitely attend any others you put on, if I'm free.
Regards, David J Jenkins"